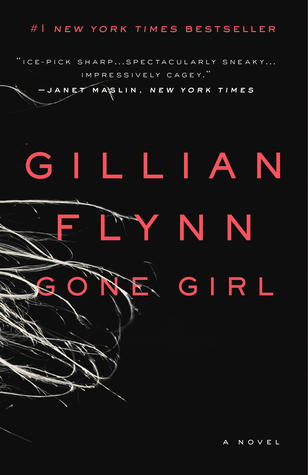 Gillian Flynn – Gone Girl
The blurb:On a warm summer morning in North Carthage, Missouri, it is Nick and Amy Dunne's fifth wedding anniversary. Presents are being wrapped and reservations are being made when Nick's clever and beautiful wife disappears. Husband-of-the-Year Nick isn't doing himself any favors with cringe-worthy daydreams about the slope and shape of his wife's head, but passages from Amy's diary reveal the alpha-girl perfectionist could have put anyone dangerously on edge. Under mounting pressure from the police and the media—as well as Amy's fiercely doting parents—the town golden boy parades an endless series of lies, deceits, and inappropriate behavior. Nick is oddly evasive, and he's definitely bitter—but is he really a killer?
My rating: 4/5
Tagged: 101 things in 1001 days, contemporary, crime, mystery, thriller
Date I started this book: 26/05/16
Date I finished this book: 30/05/16
What did I think? I am very late to the Gone Girl party. Despite the rave reviews, the movie and the office colleagues' discussions, I have managed to steer clear of any spoilers and came to the book with no idea about the plot twists.
I enjoyed it – I found it an above average thriller. I particularly enjoyed going on the ride when one of the protagonists goes to the cabins and the oh-oh feeling you get when a story takes an unexpected turning. I even found certain phrases quite resonant eg. "My value has decreased" in one of Amy's diary entries. I don't know why it struck me but it encapsulated her thoughts then about that particular subject.
Yes it does not have a conventional ending but even that made it interesting for me – though I would have found it more satisfying if it had.
All in all, a decent page turner which I enjoyed but will probably not be rereading for some time