Half-way through the meme and honestly, this was a lot harder than I imagine it would or could be. It's been interesting though, and it's got me blogging on a fairly regular basis so I'm pleased with how well it's working from that respect.
A thought provoking book? Hmmm….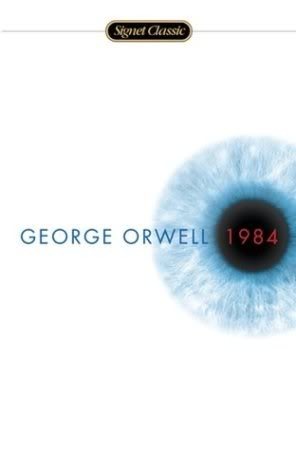 "Big Brother Is Watching You…" It was chilling the first time I read those words and they seem to be more and more fitting as time goes on – much more so than they were in 1984, even more so than 1949.
The world created by Orwell is fascinating and so plausibly and realistically portrayed that I felt, not like I was reading a fictional novel, but a real, non-fiction account of what actually happened in 1984. That's how believable Orwell's writing was. I think what may have added to the depth of the dystopian world created in 1984, as opposed to other dystopians I have read, was that there was a solid political background and reasoning given for how things were the way they were.
I found it absolutely fascinating to contemplate some of the concepts of the 1984 world. Could it really be possible to keep a whole population docile by limiting their vocabulary, thus not giving them a means to express any disagreement or dissent? Could it really be possible to effectively wipe out everyone's memory of the past by continually changing it to fit whatever version of events the government wished to tell? Would people actually accept this? Would they, or the majority at least, remain oblivious to what the government was doing?
This dystopian world that Orwell created is one of the most shocking I have read about, and it is made all the more terrifying by how realistically it is portrayed – and becoming.