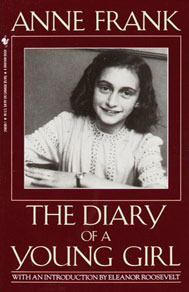 I don't even know if I should be admitting to this, but I've never actually read Anne Frank – The Diary Of A Young Girl.
I know the basic idea behind it – who doesn't? – and it sounds so harrowing that I don't know if I could cope. Just the thought of it chills me to the bone and knowing there's not a nice resolution to the family's lives…
World War II isn't one of my favourite eras of history either so I tend to avoid a lot of media surround that time. I'm sure I'm missing out on a lot, I do want to read it but I can't bring myself to read it – I read for pleasure and I can't, I won't, enjoy something set during such a horrific period.