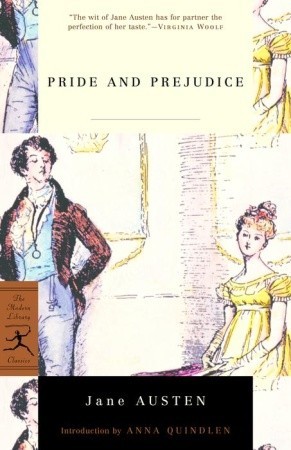 Jane Austen – Pride & Prejudice
The blurb: "It is a truth universally acknowledged, that a single man in possession of a good fortune must be in want of a wife."
So begins Pride and Prejudice, Jane Austen's witty comedy of manners–one of the most popular novels of all time–that features splendidly civilized sparring between the proud Mr. Darcy and the prejudiced Elizabeth Bennet as they play out their spirited courtship in a series of eighteenth-century drawing-room intrigues.
My rating: 4.5/5
Tagged: classics, romance, literature, british literature
Date I started this book: 07/02/16
Date I finished this book: 10/02/16
What did I think? Classic novel Pride and Prejudice tells the story of Elizabeth Bennett, and her struggle for matrimony in the 19th century north of England. This being the first classic I completed, I thoroughly enjoyed it.
Firstly, I have to admit, Austen's writing style and narrative of events has a really nice tone, and offers a broad perspective. Because said narrator is impartial to the transpiring events, one can experience the book broadly, and develop personal opinions of each character, which I really enjoy doing. Furthermore, having a narrator like this makes it so that one can feel as though they are watching the story through a present – but quiet and impartial – character's mind's eye, which really helps to bring the story to life.
Next, I wasn't expecting I would say this, yet I am: Jane Austen is really funny. Frankly, I didn't expect to get the jokes interjected into this book, for they are from a differing era to my own, yet I found myself laughing along with some of the witty comments inserted into the story.
However, I would say there are too many sub-plots. Granted, they all tie together at the end, yet I would have preferred it if the book focused plainly on Elizabeth rather than Elizabeth and every one she's ever known. I found myself wishing the book would circle back around to Elizabeth and Darcy, but sometimes there were some rather big gaps away from the main plot line, which bored me quite a bit.
In comparison, I did really like the characters. Elizabeth is really nice to read about, for she is unlike all of her friends and sisters, and decides it is not a man she needs to live. Also, she likes reading, so what really is there to dislike?
Likewise, Darcy is really fun to read about. I love it when a character is so universally hated, only for the truth to dub them all wrong for prejudicing said character in such a way. This is exactly how it worked for Darcy, and I really loved it. Also, the switch between good/bad Darcy is really sudden, yet really natural, further accentuating the poor lighting the characters and the reader have seen Darcy's personality in, perceiving him not as the man he is, but instead the man he appears to be. In turn, this also offers a good message – do not prejudice! You could be prematurely judging the love of your life!
Overall, I really enjoyed this book, but did – unfortunately – feel as though the pacing was rather slow. There were moments when I found myself feeling rather bored, for the pace had hardly furthered, yet, granted, there were moments in which I was fully enticed by the novel.