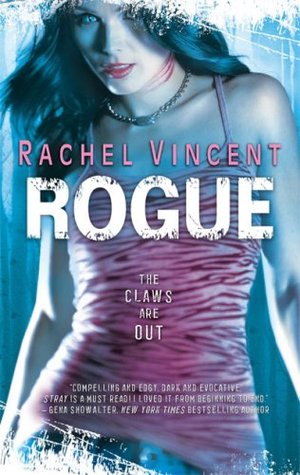 Rachel Vincent – Rogue
The blurb: Okay, so cats don't always land on their feet.
I know that better than most. Since rejoining the Pride, I've made big decisions and even bigger mistakes: the kind paid for with innocent lives. As the first and only female enforcer, I have plenty to prove to my father, the Pride, and myself. And with murdered toms turning up in our territory, I'm working harder than ever, though I always find the energy for a little after-hours recreation with Marc, my partner both on- and off-duty.
But not all of my mistakes are behind me. We're beginning to suspect that the dead are connected to a rash of missing human women and that they can all be laid at my feet–two or four, take your pick. And one horrible indiscretion may yet cost me more than I can bear…
My rating: 4/5
Tagged: urban fantasy, paranormal, shapeshifters, romance
Date I started this book: 15/01/2016
Date I finished this book: 18/01/2016
What did I think? Rogue is the follow up to Stray and picks things up a few months after the events in the previous book. Faythe and Marc are together as enforcers and as a couple, and life is going on as normal in the pack. When a number of toms are found murdered in Pride territory, their necks broken, these deaths are found to be linked to the disappearance of a number of strippers. Faythe and the rest of the werecats are plunged into a race to find the killers.
This book is well plotted and the comparisons to Kelley Armstrong's Bitten and Stolen are far less evident. The action moves at a fast pace and many of the characters are interesting and well drawn. The character sketches of the minor characters are great and I love the character of Marc but I'm continually left wondering why he loves such a selfish, immature character as Faythe. Yes she does grow up a little bit in this book and she is finally taking a greater involvement in the Pride, but she's doing it under duress and with no real intention of wanting to continue long-term. For a girl of twenty-three she's about as mature as someone five years her junior and her actions continue to hurt the people around her. My one real gripe with this series is Faythe, the angsty and angry, childish heroine that I wish I could shake some sense into. I know that Faythe is probably drawn the way she is as it gives the author lots of scope for future character development, but it makes it hard to love a book when you don't like the heroine. I like this series, but I don't think I'll love it until Faythe grows up a bit more. Here's hoping the cliffhanger ending of this book will lead to this happening in the next.