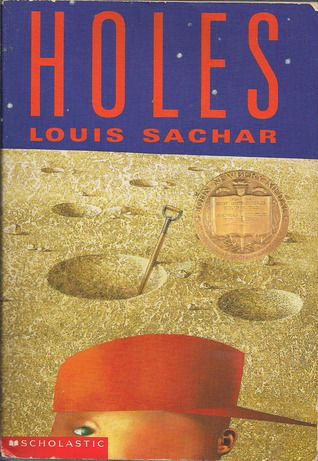 Louis Sachar
Stanley Yelnats is under a curse. A curse that began with his no-good-dirty-rotten-pig-stealing-great-great-grandfather and has since followed generations of Yelnatses. Now Stanley has been unjustly sent to a boys' detention center, Camp Green Lake, where the boys build character by spending all day, every day digging holes exactly five feet wide and five feet deep. There is no lake at Camp Green Lake. But there are an awful lot of holes.
It doesn't take long for Stanley to realize there's more than character improvement going on at Camp Green Lake. The boys are digging holes because the warden is looking for something. But what could be buried under a dried-up lake? Stanley tries to dig up the truth in this inventive and darkly humorous tale of crime and punishment—and redemption
My rating: 3/5
Tagged: 101 things in 1001 days, adventure, childrens, mystery
Date I started this book: 31/05/16
Date I finished this book: 01/06/16
What did I think? While reading this book, it didn't really appeal to me. Although I really loved the characters like Stanley and Zero, I still don't get what the big deal was. This story of a boy named Stanley Yelnats gets into Camp Green Lake because he stole a pair of shoes. He then makes friends that have weird nicknames and eventually he gets a weird nickname too. He was 'Caveman'.
I really liked Zero's and Stanley's friendship because Stanley risked his life to go and look for Zero. And they did things for each other. Stanley teaches Zero how to read, and Zero digs a part of his hole every day. And they didn't even have a problem with that, only the other kids did. I thought it was really awesome when the lawyer and Stanley prove that Zero is clean and he can leave the camp.
I think both Zero and Stanley are underdogs, as well as losers and outcasts. I think both of them are underdogs because I didn't expect them to survive. And if they did, I thought the Warden would do something really bad to them. And they're losers because being a loser is to have bad luck in life, to be unpopular and/or unsuccessful. Well they did have bad luck because they got into Camp Green Lake. They aren't popular either. When Stanley was in school, he didn't have any friends and he was bullied. Zero is a loser because he doesn't have friends and he basically almost died. And they are outcasts because they both don't fit in with other kids. Stanley has no friends and he gets made fun of for being fat. And Zero gets underestimated and everyone thinks he's stupid.